Even if you use Fleep daily for team chat, project communication, for managing your emails, or all of the above, you probably don't use all of its functionality. Which is fine – as long as it gets the job done, right?
Well, if you're using Fleep a lot, you might as well try to make the most of it. Without further ado, here are 12 handy lesser-known and hidden features in Fleep to elevate your experience…
1. Set a conversation avatar with an emoji
One of my personal favorites, this little trick is a great way to customize any conversation. Just copy and paste an emoji to the beginning of the conversation's topic, and it becomes the conversation's avatar in your conversation list:
2. Use quick commands
Chat commands are a great way to quickly do actions that would otherwise require several clicks. For example, you can quickly create a task with /task, a pinned message with /pin, add someone with /add and so on. You can find the full list of quick commands here or just type a slash in the message box, and a popup menu with the commands will appear!
3. Use a hidden quick command to make it snow
This is a fun and completely impractical command — /snow. Just type and send it in the desktop version of Fleep, and it will start snowing in Fleep! (Click anywhere in the interface to make it stop.)
Now, we just need to make it work for the outdoors as well…
4. Change the gif that /giphy posts
We've received some feedback that the gifs the /giphy command posts are sometimes NSFW. So yes, we do recommend using it with caution… And remember you can always delete the gif that was posted. Even more, you can actually change the gif!
Pay attention now, as this is a true power feature. Here's how you do it:
1. Post a gif with /giphy
2. Realize the gif that was posted is not safe for work/ funny/ relevant
3. Click in the message box and hit the Up arrow on your keyboard to activate message edit for the /giphy message
4. Hover over the attached file and click on the Remove button that appears, to remove the gif
5. Hit 'Save' and the gif will be automagically replaced with a new one!
Read more about the Giphy integration in this blog post.
5. Choose to use Fleep emoticons
If you're anything like the creator of emoticons and think the yellow-faced emoji are ugly, you might want to try out using Fleep emoticons. All you need to do is open your account Preferences and configure the setting for Fleep emoticons. Now, you'll be able to see and use the minimalist blue Fleep emoticons!

Read more about the Fleep emoticons in this blog post.
6. Get a daily weather forecast in a Fleep conversation
There's a super simple IFTTT applet for this — you can either send today's weather forecast to Fleep or send tomorrow's forecast to Fleep. I use it to receive the weather forecast in a dedicated chat every day at 7am.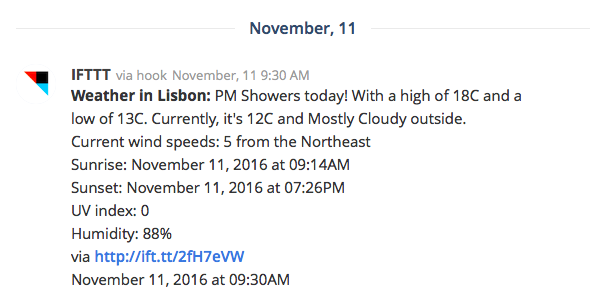 Just remember to change your location in the Weather applet on IFTTT if you're traveling!
Read more in the Fleep-IFTTT integration blog post.
7. Set yourself  a reminder
This is another handy thing you can do with the IFTTT integration — set a reminder that recurs on certain days at a certain time of the day. In our team, for example, we have configured one to remind everyone when our weekly meeting is about to start:

8. Talk to yourself
Yes, you can have a conversation with yourself in Fleep. Use it for personal notes, as a personal tasklist, to save links or files, or for anything else you wish!  After all, only you will be able to see it.
To create a monologue, just start a new conversation and do not add anyone else to the conversation. The conversation will be named "Monologue with myself", but you can rename it to be anything.
9. Organize your conversations however you wish
You can use conversation labels to organize your conversations. Want to group all 1:1 conversations together? Yes, you can.
Wish to see all of your team's conversations grouped together? Sure, just enable the team's label.
Would prefer to see emails grouped separately from Fleep-Fleep conversations? No problemo.
Want to see them grouped in a different order? Reorder them.
… you get the point.
Read more about conversation labels in this blog post: Manage your Fleep conversations with labels.
10. Edit your messages
You may already know this one. But just in case you don't, it's really, really useful. Hitting the Up key (when the message box is active) will automatically let you edit your last message — or you can choose Edit from the message actions menu. So, you made a typo? No problem. Edit away! You can also delete messages from the message actions — in case, say, you accidentally typed and sent message meant for another conversation.
11. Format your messages
Like the previous one, this may not be news for you. Here's a few ways in which you can format your messages: putting *asterisks* around something will make it bold. Putting _underscores_ around it make it italic.

See all Fleep text formatting options here.
12. Create and manage email lists
This may not be cool as other features highlighted in this post, but it is definitely a power feature. You create and manage electronic mailing lists that any participant can also post (email) messages to. All you need to do is create a conversation, add the email addresses (and Fleep users), and make sure the Email list behavior has been enabled in the conversation settings. And voilà, you can send emails to the list!

The email lists have been put to good use in Fleep for different communities — e.g. Startup Estonia Community has a conversation with 173 people in Fleep that works as an email list for all email members. It's almost like a community notice board that everyone can post to!
Read more here: Introducing email list behavior in Fleep!
Do you have any feedback or questions for us? Let us know at support@fleep.io. Let's also stay in touch through our social media channels. We're on Twitter, Facebook, LinkedIn and Instagram.