Fleep integrates with Whereby for easy voice and video calling in Fleep conversations. You don't even have to set it up – it's built right into Fleep.
To create a voice or video call with our Whereby integration, simply create a Whereby room and follow these steps:
Choose a Fleep conversation where you wish to start video calls from (all members of the conversation will be able to join). In the conversation, open the Conversation settings and configure your Whereby room as the default room. Then, click on the + button in the message flow, and choose Start a video call from the menu that appears.

Or, if you're a fan of commands, you can also use the slash commands to start a call. Type /call and hit Send — this will also create a Whereby call.

Alternatively, you can also start a call in any Fleep conversation using a specific Whereby room by using the command /call roomname. The example below will start a call with whereby.com/team-omega for example.

The call you start will launch in the web browser. If you're using Whereby for the first time, it will request you to share your camera and mic with the service:

At the same time, a system message will be posted in the Fleep conversation – informing other members of the conversation that you started the video call. Everyone in the conversation can join the call by clicking the JOIN button in the message flow.

And you're done!
Pro tip: if you're a regular user of the Whereby integration, it may be a good idea to configure your default Whereby room in the Fleep conversations where you start calls. Just open the conversation settings, and type the name of the name of the default Whereby room under the "Default Whereby room name". Then, all calls started in that conversation will automagically (yes, it's a real word) launch your default Whereby room!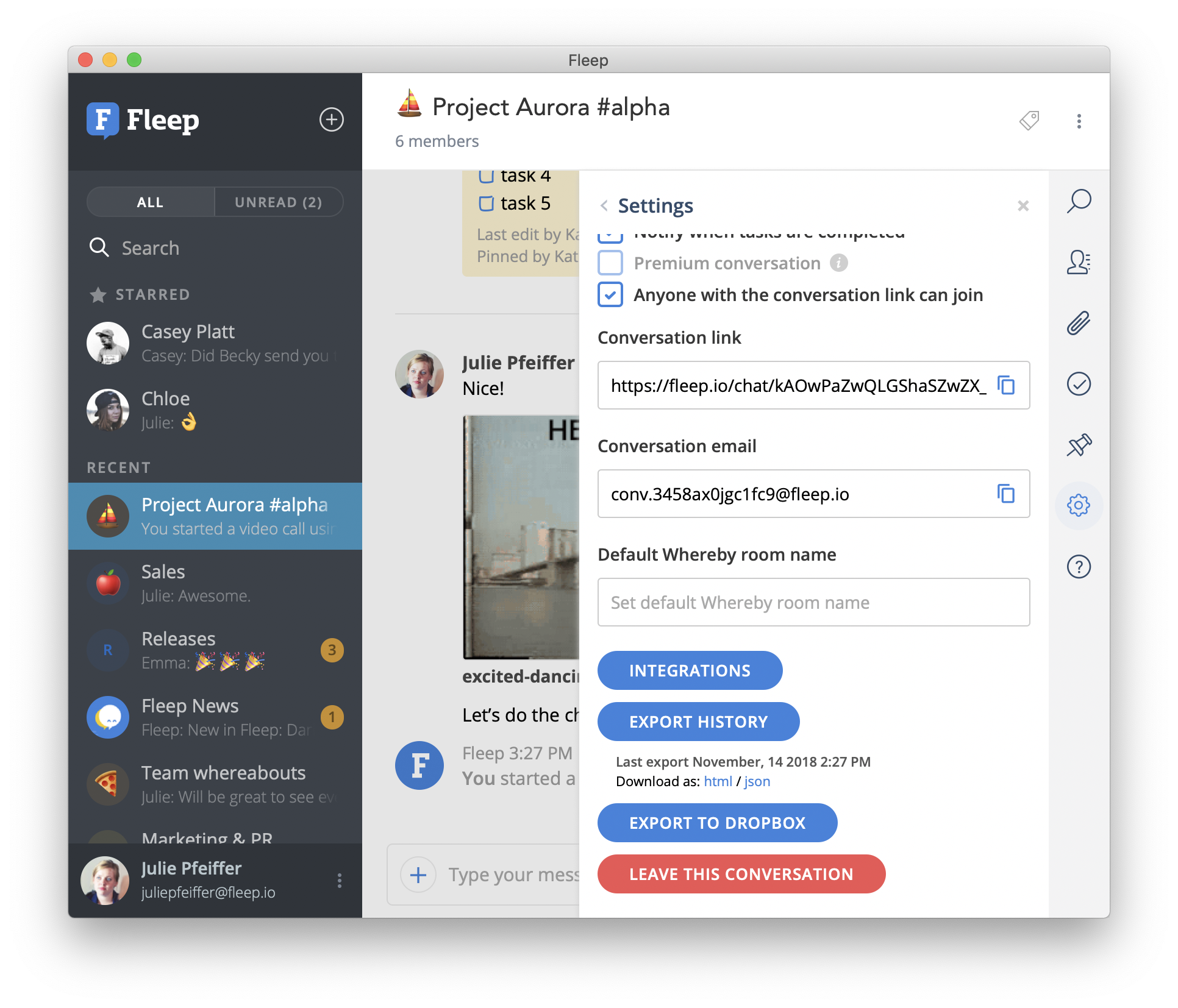 Note that currently, video calls calls can only be started from the desktop version of Fleep (Mac, Windows apps and web browser). However, anyone using the Fleep mobile apps can easily join the call by clicking on the JOIN link. Anyone joining the call on an iOS device will also need to download the Whereby iOS app to join.