The history of remote work dates back to 1979 when five IBM employees were allowed to work from home as an experiment.
With the evolution of modern technologies, when employees can use cloud-based SaaS software to connect and collaborate with colleagues, more and more people get an opportunity to work remotely. In fact, the number of people working from home has risen by 400% since 2010. Today, 3.9 million people work from home.
Remote work has many benefits for employers and employees. Workers get flexibility, increased productivity, and better work-life balance while employers have lower business expenses, improved employee satisfaction, and reduced employee turnover.
The outbreak of COVID-19 has impacted the growth of remote work as companies have allowed their employees to work from home.
Although many businesses were skeptical about remote work, most of them saw an increase in employee productivity. As a result, 74% of companies plan to shift to remote work permanently and 70% of the existing workforce will work remotely by 2025.
Remote work is the future of the workforce. Here's what business owners and employees can expect of remote work in 2021.
1. The Growing Number of Fully or Semi-Remote Roles
The global pandemic has affected the growth of remote workforce. According to Reuters, the permanent remote working opportunities are expected to double up in 2021.
Modern employees want to work remotely. One report has found that 99% of people would like to work remotely at least some of the time for the rest of their careers.
If your workers can transition to online work with ease, that's great. But if your employees are unable to complete their job duties from home, semi-remote roles suit them best as these people can balance working from home and office.
Moreover, there is a great variety of tools that help companies of all sizes and niches manage their remote employees who need assistance.
For example, if your employees work in shifts, it's a good idea to use a time clock app for small businesses that helps managers and employees enjoy the balance between in-house sociability and telecommuting flexibility.

In short, the number of fully or semi-remote roles is predicted to grow, so companies should adapt to remote work as it's here to stay.
2. Increased Number of Freelance Gigs
People are ready to take freelance gigs and the modern workforce offers these opportunities.
According to one research, 52% of the U.S. workforce has worked as an independent contributor while 55% of freelancers still have other full-time jobs.
In 2021, businesses will also move towards the more agile form of recruitment and job allocation. Based on the insights presented by Adam Ozimek, who is currently listed as Upwork's Chief Economist, remote work can disrupt the geographical distribution of the remote workforce which would then bring in more freelancers and outsourced gigs into the mix.
Remote work allows people to take freelance gigs and therefore make more money that can give people flexibility and freedom. Moreover, the demand for freelancers is on the rise.
3. Advanced Teamwork and Collaboration

It's no secret that most corporations were skeptical about remote work due to the lack of professional collaboration, erratic shifts in productivity, and depleted teamwork.
In 2021, we can expect remote workforce management to see positive changes. Why? Modern society is constantly changing, so the market offers a great number of remote working tools so that every business can find the right solution for their needs and wants.
Today, more and more companies invest in collaboration software: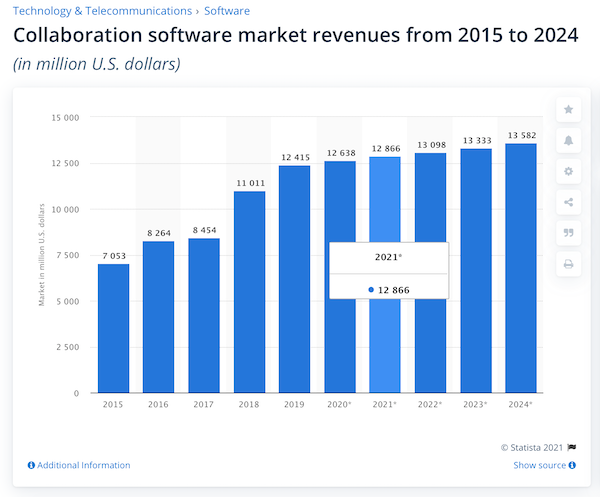 Let's take Fleep, for example. This tool allows users to share files and tasks which helps to coordinate the team's work with ease.
But when your team members face a problem and they need assistance, companies can rely on  remote access apps that allow people to get virtual help.
All in all, the growth of remote work software leads to advanced teamwork and collaboration which help team members communicate with their co-workers, no matter where they work from. As a result, remote work leads to higher productivity and a better work-life balance. Moreover, we can expect to see more tools and apps for remote work in 2021.
4. The Growth of Outsourcing
In addition to setting the highest possible remote working standards, 2021 will also see massive growth in the outsourcing demands.
Smaller businesses will look to get a major chunk of their work done by independent, outsourced vendors to minimize reliance on in-hour labor. For instance, it seems to be a smarter idea to outsource your extended software team for a project instead of hiring in-house employees.
Outsourced jobs will find their way back into the employment sector, either as smaller freelancing gigs or contractual services. This approach will also pave the way for a chain reaction, eventually resulting in a lesser requirement for office spaces, inclination on co-working arenas, and better organization security.
However, the growth of outsourcing has its impact, too.  For now, organizations should keep a closer eye on the cybersecurity threats. Every business should invest time and effort in remote cybersecurity as the majority of work comes into the organizational server from the remote and alienated arenas. This is the reason why we are expecting the 2021 remote work scenario to be more inclined towards end-point security and other measures for keeping cyber threats at bay.
5. Better Work-Life Balance
Remote work is flourishing. Organizations provide their remote workers with various tools and apps to make their workflows easier. For example, digital marketing agencies who help companies build social media presence on various platforms use social media management tools to put some duties on autopilot and make it easier for their workers to concentrate on creative tasks.
Many companies also outsource tasks that can be outsourced. For example, organizations can use content marketing service provides, like essay writer pro experts or some other relative content specialists.
Since collaboration and teamwork become easier, both employers and remote workers get an opportunity to manage their workflow better and therefore become more productive.
During the pandemic, companies have started sharing productivity tips with their employees to help them overcome social isolation. What is more, businesses spend less on managing remote teams, so companies have budgets to invest in employees' development and health.
Not only does it lead to an emotional bond between employees and organizations, but it also positively affects employee satisfaction that helps your team members keep a better work-life balance.
The Bottom Line: The New Normal of Remote Work in 2021
In the last decade, when more people got an opportunity to work from anywhere, the idea of working remotely had been lucrative for workers from all over the world. In 2020, the spread of COVID-19 has impacted many organizations and office workers have adjusted to different forms of remote work.
Today, a great number of people work outside the office and remote work is likely to persist long after the pandemic. Obviously, remote work requires companies to reinvent many processes and policies, but many professionals believe that remote work is the future of the workforce.
So, are you ready to make the most out of this new reality?