If you run a successful business, it's safe to say you have high operational efficiency. But is your every team member consistently productive?
With higher productivity comes more profit, so you need to make sure your teammates reach their full potential. That means arming them with proper tools for boosting all their efforts and fighting productivity killers.
Read on to explore some of the best business tools to increase business productivity.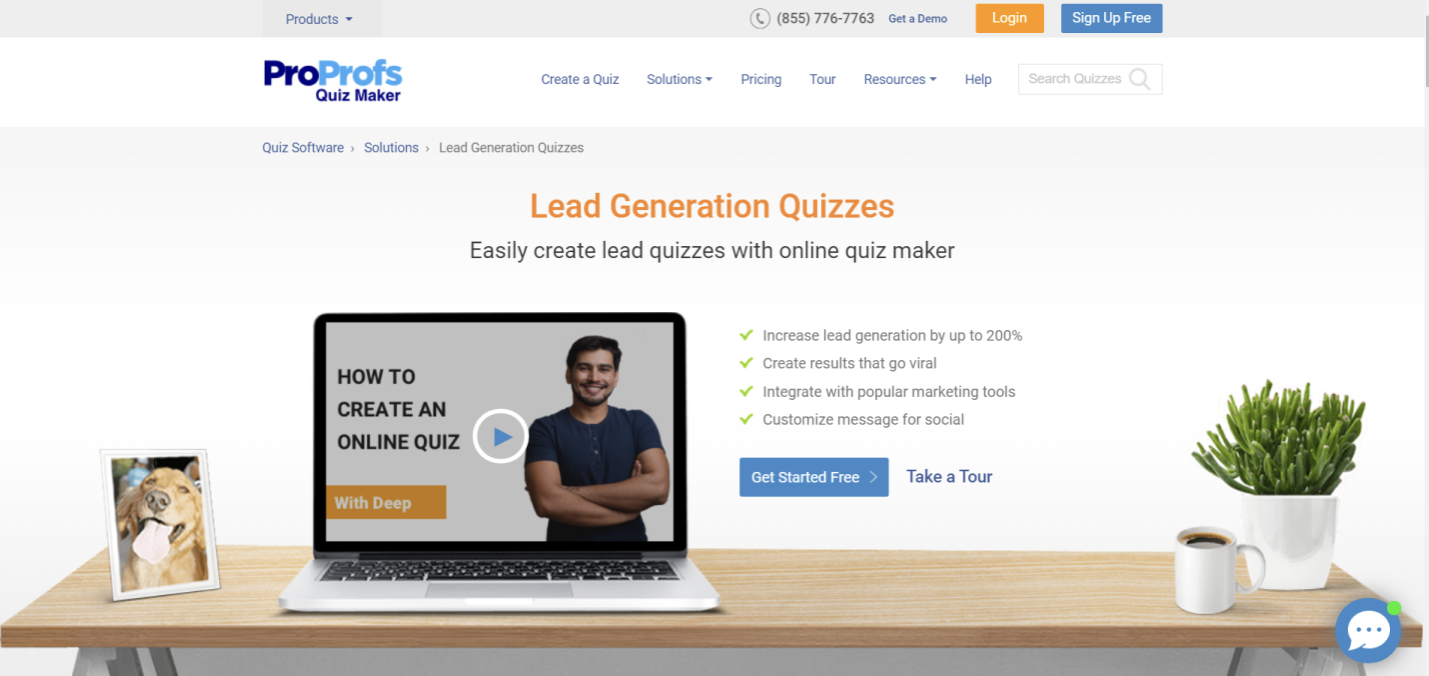 ProProfs Lead Quiz
Are you taking advantage of online quizzes for lead generation? You should, as they can help you attract your target audience and convert qualified leads. They have the potential of going viral, so that's an opportunity you wouldn't want to miss.
With customer data you gather from lead generation quizzes, your sales team can reach your goals faster and with fewer costs.
ProProfs Lead Quiz software is an excellent tool for creating lead generation quizzes. It comes with more than 100,000 pre-built quiz templates that you can customize to meet your brand's needs and target audience.
You can create your own lead forms to display before the results and effectively capture leads. You can personalize the results that the quiz takers would love to share and customize your social sharing messages.
You can also integrate ProProfs with a CRM, email marketing tool, or lots of other tools to automate your marketing campaigns and nurture your leads.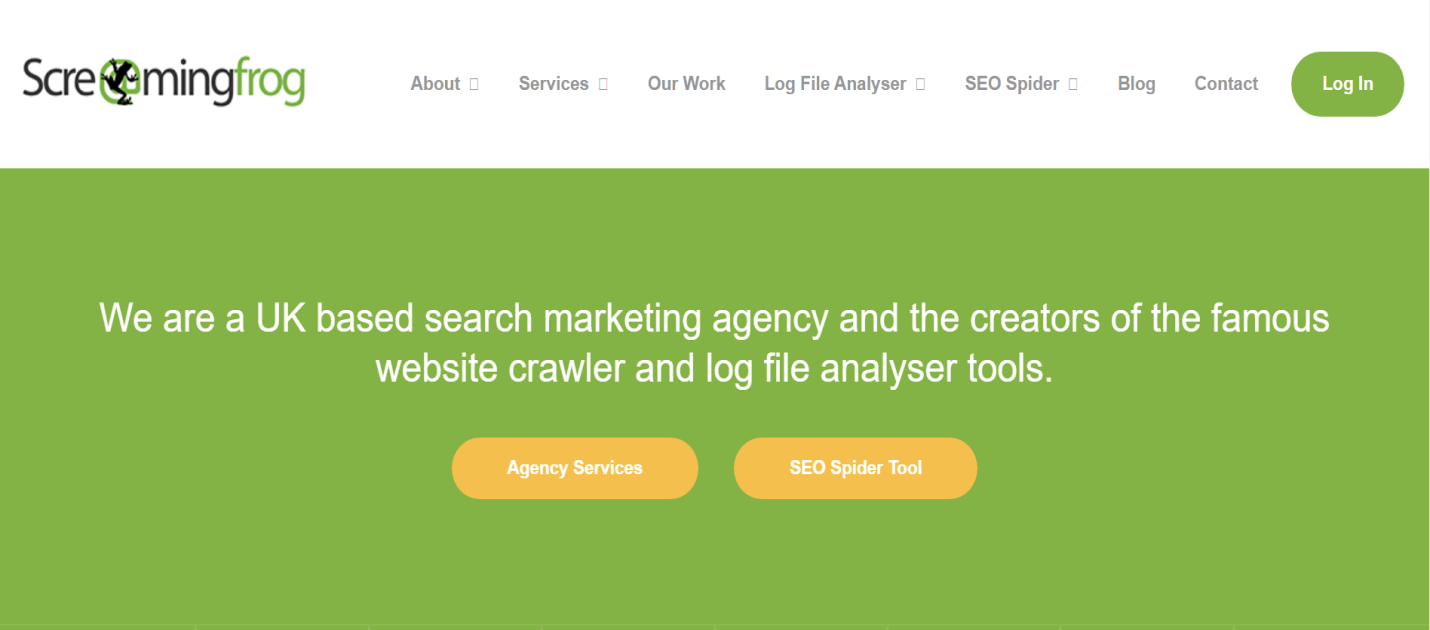 Screaming Frog
Screaming Frog offers two separate tools for crawling websites and providing invaluable insights regarding SEO. They can help your SEO professionals make better business decisions and turn your website into a lead-generation machine.
There's the SEO Log File Analyzer, which lets you analyze your log files and various data from search engine bots. Some of that data includes crawled and skipped URLs, broken links and errors, audit redirects, and slow-loading pages.
The other tool is the SEO Spider, which crawls your website to help you boost your onsite SEO efforts. It can audit your website in terms of metadata, redirects, broken links, internal linking, duplicate content, directives, and more. It can also help you generate XML sitemaps and visualize your site architecture.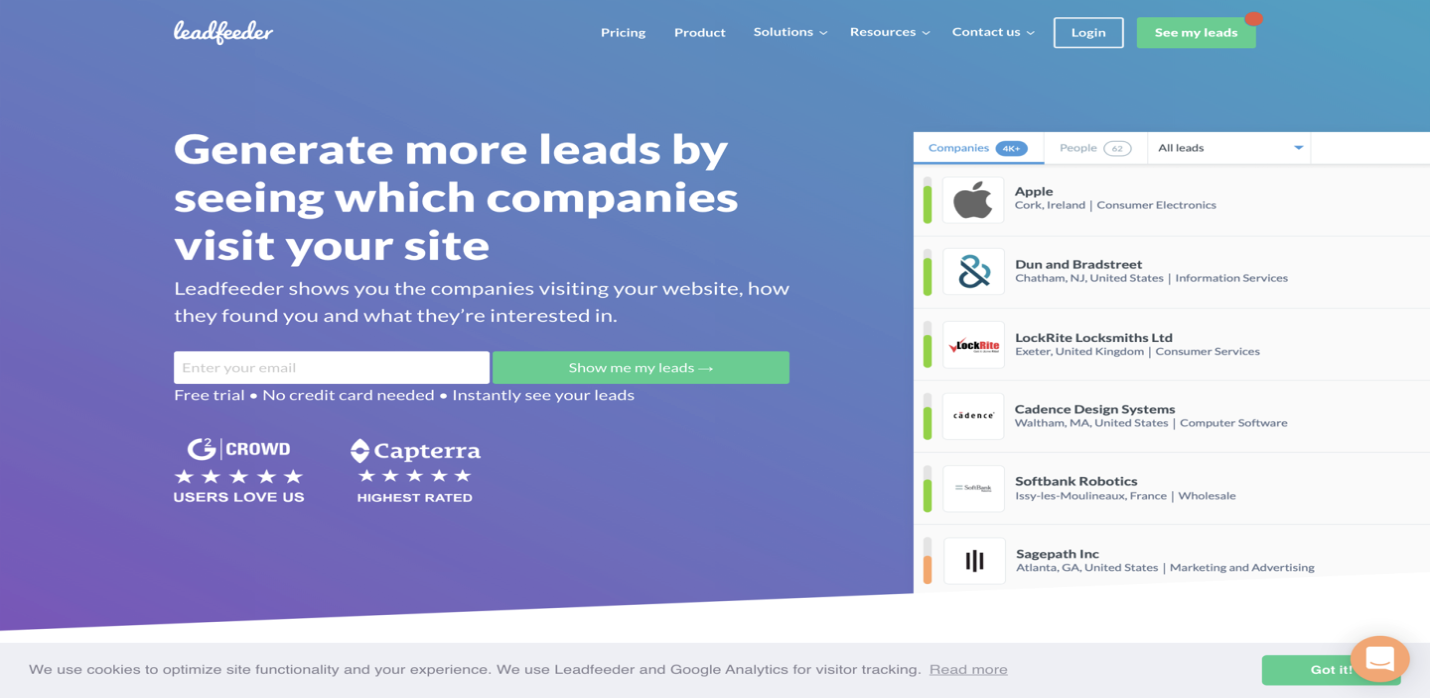 Leadfeeder
Leadfeeder is a tool for tracking website visitors in real-time and uncovering hidden leads. It's aimed at B2B marketers and sales teams, helping them be more productive at lead generation.
It shows you which companies visit your website, what they do on the site and where they're coming from. It also uncovers their contact information, which Leadfeeder can automatically send to your CRM, email marketing software, or other integrated tools.
That way, your sales team can quickly capture and convert those hot leads, armed with better sales pitches, thanks to the gathered data.
At the same time, your marketing team can work on optimizing your content, thanks to all the website engagement data.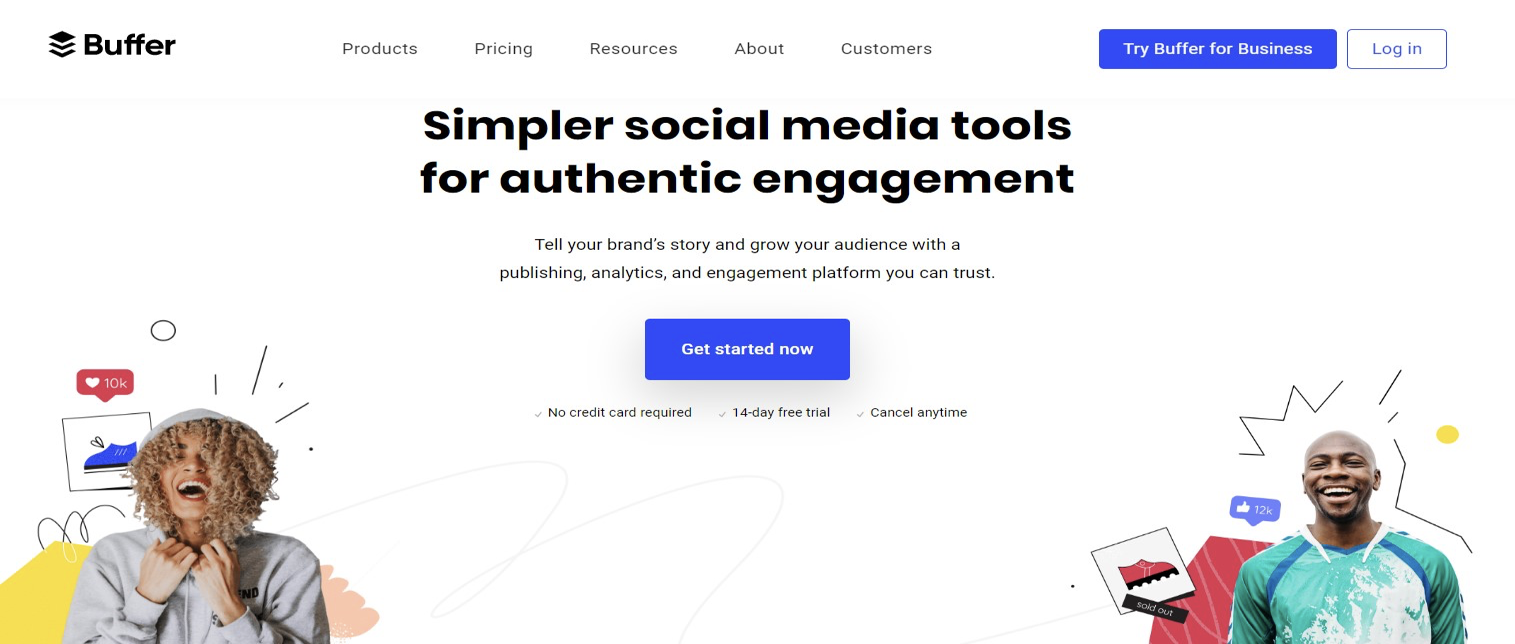 Buffer
The Buffer tool is excellent for helping your social media team to enhance audience engagement and grow your brand. It has two tools you can utilize – Buffer Publish and Buffer Analyze.
The publishing tool helps you plan, schedule, and post content on social media – namely, on Facebook, Instagram, Twitter, Pinterest, and LinkedIn. On a single dashboard, you can organize and review your social campaigns.
The analyzing tool helps you measure the performance of your social media efforts for increasing brand awareness. It provides you with in-depth reports for all your channels, helping you track your KPIs, and analyze your engagement and reach.
It also shows you the best times to post on social channels, whether you're reaching the right audience, and much more. It's a great tool for working smarter.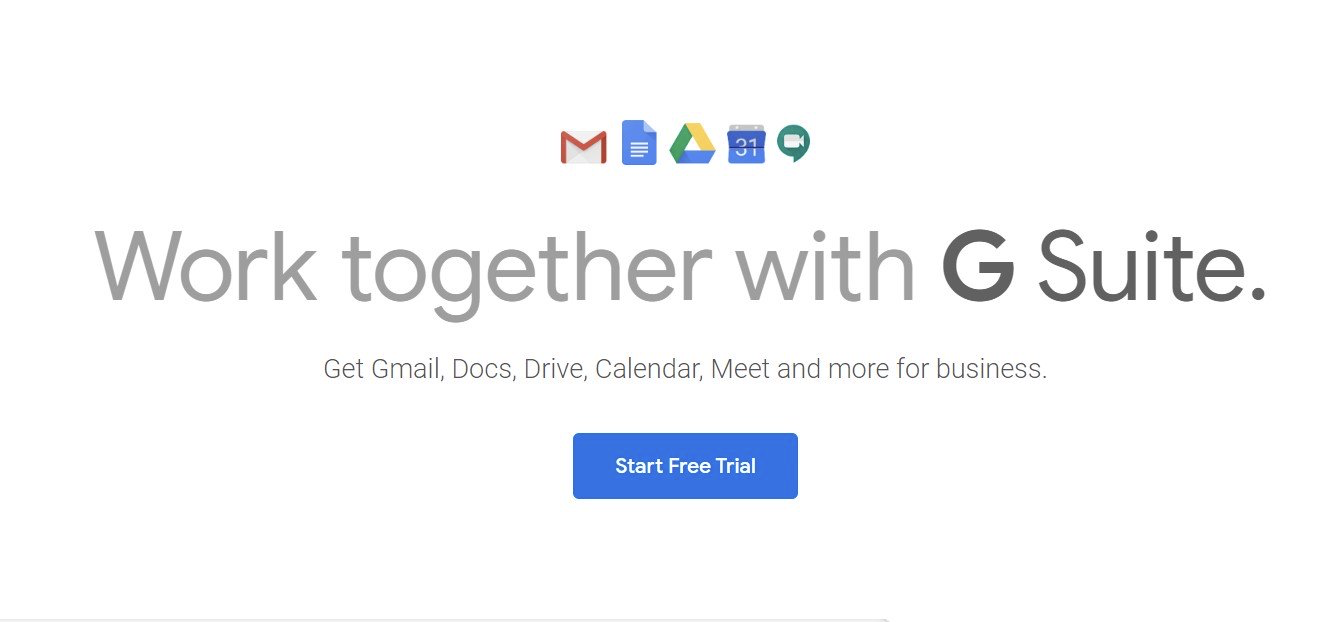 G Suite
Since G Suite is a suite of productivity, professional email and collaboration tools, it's a no-brainer for boosting productivity at your company.
Perhaps you're already using some of Google's products, such as Gmail, Google Drive, and Google Docs. However, G Suite comes with a dozen more, as well as some very attractive features.
For instance, with Gmail, you'll get admin controls, no ads, and the possibility of choosing your own domain.
G Suite also provides you with a secure cloud-based vault for your data, data loss prevention for Drive, advanced admin security, endpoint management features, and much more.
The built-in security features are why it's good to have G Suite in your toolbox. You get much more value than the individual Google apps offer.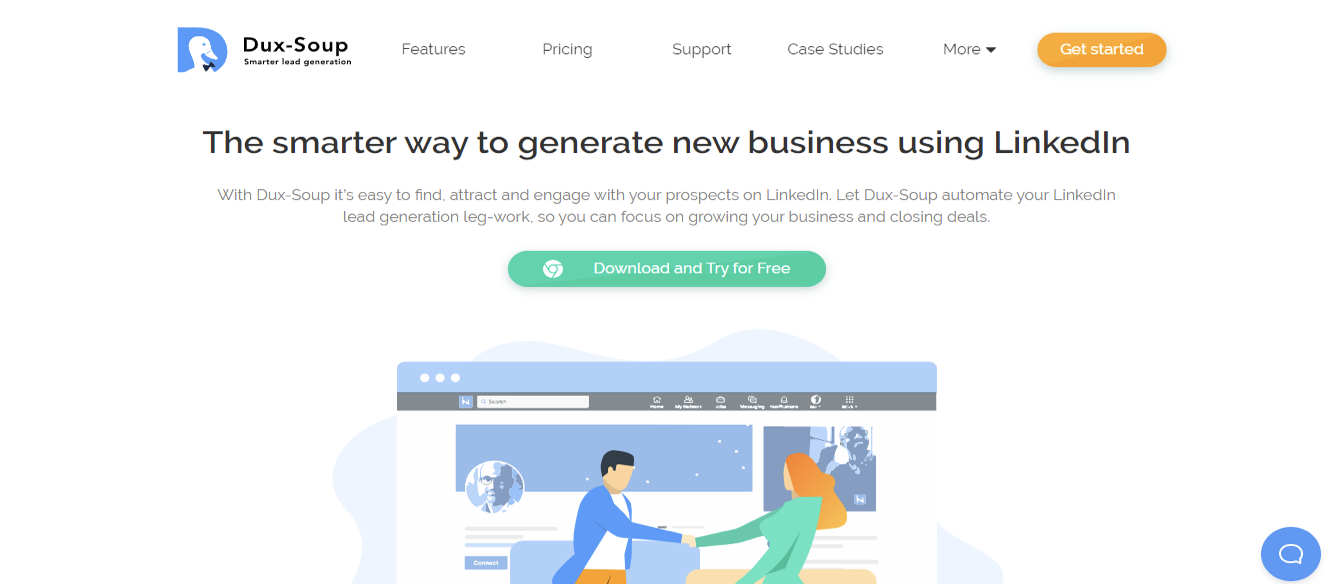 Dux-Soup
Dux-Soup can help you turn LinkedIn into a lead generation and management system. It can help you find the right leads and automatically engage with them, ensuring you build meaningful relationships that lead to sales.
It can help you create drip campaigns with personalized messages, stopping the campaign whenever a lead responds. That way, you can manually follow up and start building a relationship.
With Dux-Soup, you can easily manage your leads and prospects, thanks to searchable profile lists where you can leave tags and notes.
You can upload profiles to your CRM, share them with your team, and use a lot of other features for engagement, filtering, follow-ups, analysis, workflow integration, and more.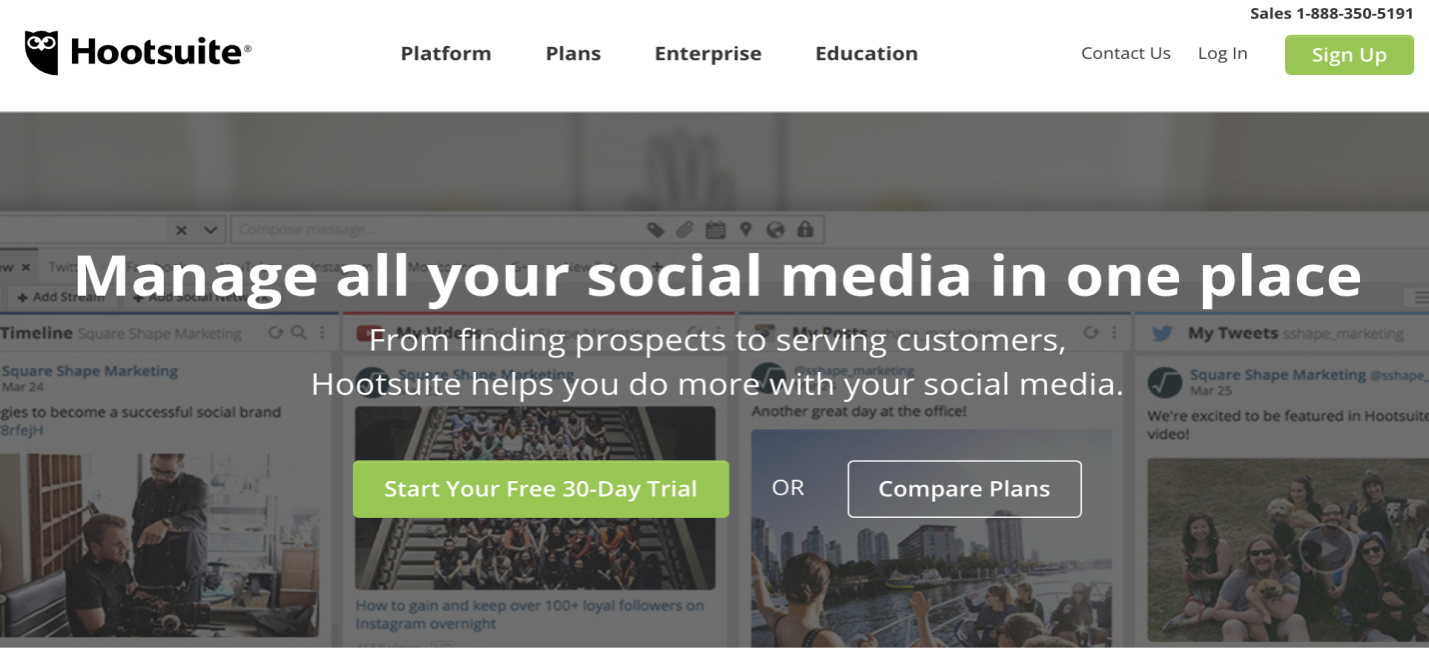 Hootsuite
Hootsuite is another excellent tool for boosting your social media efforts. It can help you plan, schedule, and publish social content, measuring its effectiveness in real-time. It can help you engage with your followers through personalization, ensuring you build strong relationships and attract leads that convert.
With its advertising features, you can create and manage ad campaigns across channels, ensuring they deliver exceptional results and help you get the most out of your budget.
Hootsuite features a dashboard for monitoring social media, including brand mentions, competitors, the hottest topics in your niche, and more. It also provides you with real-time audience insights.
It lets you analyze your social media performance across channels too. You can generate custom reports for quickly assessing your performance, improving customer service, and calculating your ROI.
What are you doing to increase business productivity these days? Have you utilized any of these tools to increase business productivity? Seeing as they're all different, we highly recommend you give them a spin. They're free to try, so explore them to see how they fit your needs. You can also explore more ways to use technology to increase productivity.