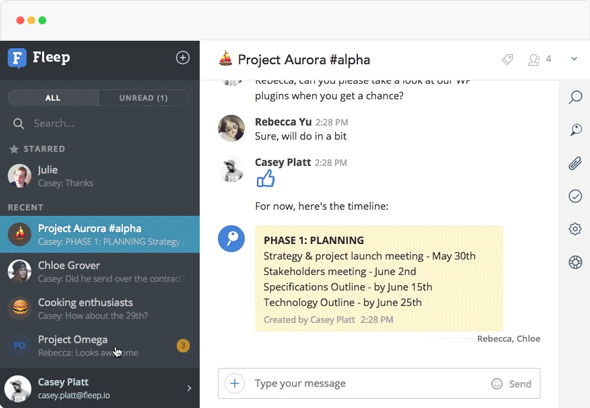 We're always working to make Fleep better for you. Recently, we got rid of the All Conversations view and introduced an animation to indicate when new messages have been marked as read. These updates follow the most recent update to the conversation list.
New messages read animation
Whenever new messages are posted in a conversation, they are shown with a New messages indicator. Previously, this was a static indicator that did not show you when the new messages were marked as read.
Now, we've added a nice little animation to the indicator. The orange New messages indicator is transitions into a gray checkmark when the new messages have been marked as read in the conversation.
This should help you notice when new messages are marked read and when they're not marked as read! The indication is also in sync with what is shown to other conversation members with the Seen-by indicator.
All Conversations sunset & new Home view
We used to have an All Conversations view that was more or less a duplicate of the conversation list, but in chronological order. As it makes little sense to keep a duplicate conversation list, we decided it was time to sunset the All Conversations view.
Since many of our users like to "close" or exit the conversation once they're done with it, we introduced a new view that can be used for just that. So, if you mark any conversations as unread, or click on the Fleep logo on the top of the conversation list in the desktop version, you will be taken to the new Home view.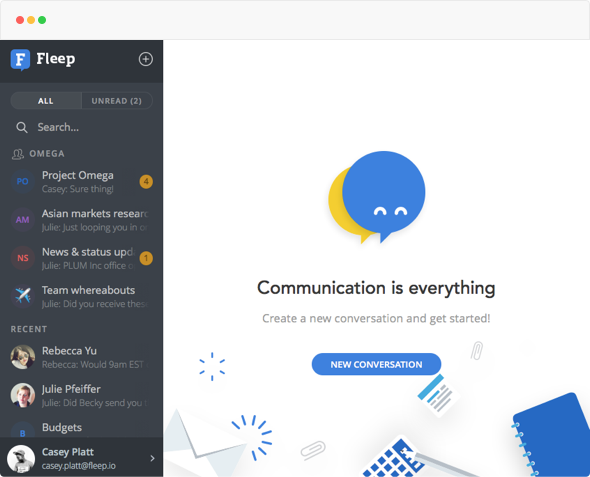 We hope you enjoy these updates. Questions or feedback? Get in touch with us via support@fleep.io. You can also find Fleep on Twitter, Facebook, LinkedIn, and Instagram.