Today we are thrilled to announce Fleep for Business for organizations who want administrative control over accounts, conversations and teams in Fleep.
Why Fleep for Business?
We have built Fleep for everybody and we want everybody to use it. That means you get unlimited message history, teams, integrations and everything you'll ever need for free. We don't want to put essential things behind a paywall.
We have also built Fleep in a way that would minimize administrative overhead. So for example, everyone can add and remove members from conversations and teams, or change the settings for them. As there's always visibility into who has changed something through the system messages, this works fine for many of our users.
However, what we've also been hearing year after year is that many businesses need administrative control over their employees' Fleep accounts, conversations and teams.
It's not so much that businesses don't trust their employees. In the end, you just want to prevent accidents, have a smooth way to bring people on board and inevitably some day, remove people from your company's Fleep conversations.
So, we developed Fleep for Business to offer a powerful set of admin features designed specifically to address the needs of businesses using Fleep, and help the managers sleep peacefully at night, knowing they have full control over their company's Fleep content through the Admin panel.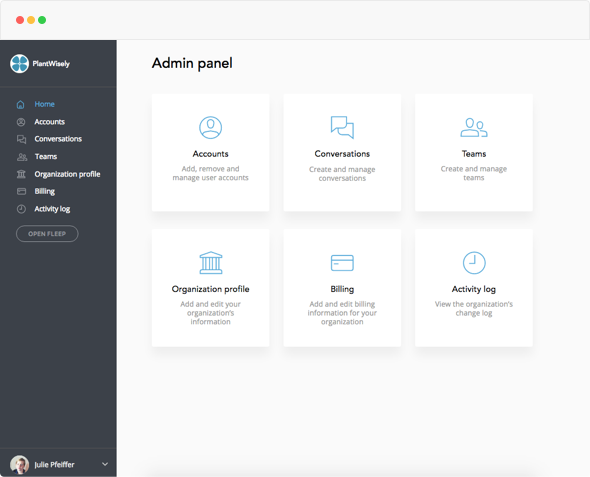 More control, less worries
You don't have to just take our word for it. This is what pilot users of Fleep for Business have said:
"With 100+ employees all around the world, automation is key for us. The benefits of an admin control panel allows us to create predefined teams and conversations, so when on-boarding a new member of staff its a simple as adding in an email address and selecting the correct team, they are operational in minutes." – Jo from WUN

"While our team has been very dependable and trustworthy regarding staying organized in Fleep, centralized administrative control is a feature we have wanted for quite some time now. The feature gives us peace of mind that accidental history disclosures and unauthorized configuration changes are a thing of the past. Also, seeing our own logo in the Fleep client is awesome!" – Devin from Oxide Network
In addition to all of our functionality that will remain available for all free users, here are the additional, new features available now with Fleep for Business.
Admin controlled accounts
In the free version of Fleep all users own their accounts. Admin controlled Fleep accounts belong to the organization paying for Fleep for Business. This means the organization admins can deactivate and delete the admin controlled accounts, for example.
Do note that any free user can be invited to Fleep for Business. Then, they need to accept the invite to hand over the account to the organization. Also, all admin controlled accounts can be removed from the organization, and thus converted into free accounts.
Admin controlled conversations and teams
In the free version of Fleep, everyone can add and remove members to conversations and change the settings. With Fleep for Business, you have admin control over conversations. This means the admins have full control over the membership and settings of these conversations. Same applies to admin controlled teams.
In addition to that, admin control means that when someone is removed from a conversation, it is now possible to remove their access to the message history. This is not possible with the free version of Fleep.
Use your own logo in Fleep
Fleep for Business organizations can use their own shiny logo in Fleep. This means the logo you upload will be shown to all of the admin controlled accounts in their desktop version, instead of the Fleep logo. For example, if Google started using Fleep for Business, this is how Fleep would look like to them: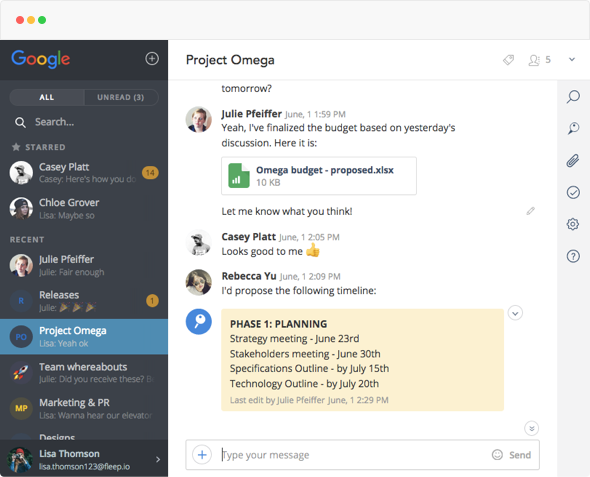 Additionally, all admin controlled accounts will have the organization's name shown in their Profile. So, in any communication across organizational borders, you'll be identified with your organization.
We value your time as much as you do – we understand that in a high-performing business, any questions and problems must be addressed quickly. This is why support requests coming from any Fleep for Business user (admins as well as regular admin controlled accounts) will be highest priority for our support team.
How to get started
All you need to do is start the free 30-day trial on our Pricing page or just head directly to fleep.io/admin.
If you're a Fleep user already, it couldn't be easier to convert your existing team – it will be offered to you after you start your trial. All the team members will be invited to join your Fleep for Business organization, and the team and its conversations will be converted into admin controlled ones. All of this is reversible, if you decide to go back to free use of Fleep.
Fleep for Business is €5 per account per month (when paid annually). Learn more at fleep.io/pricing or in this Help Center article: What is Fleep for Business?
Launching a paid subscription allows us to build a sustainable business model. This in turn allows us to deliver the best messaging solution to all of our users. It's a win-win!
This is the beginning of Fleep for Business. Your feedback and requests will play a crucial role in what will become of it. So do let us know what you think via support@fleep.io . Let's also stay in touch through our social media channels. We're on Twitter, Facebook, LinkedIn and Instagram.