You asked for it, and we listened: the Trello integration is here! You can use it to see updates to Trello cards and lists in Fleep. The updates are sent through as notifications to your Fleep conversations.
For the uninitiated – Trello is a collaboration tool that is great for project management. Since Fleep is perfect for project communication, the integration with Trello helps everyone who needs a more advanced task management system than our own Fleep Tasks.
How it works
The Trello integration sends updates from any one board to the Fleep conversation where you set it up. The updates include any changes to the lists and cards on your board, and are sent as notifications to Fleep. You can configure one or several Trello boards in any one conversatino, and you can use a different Trello account in different Fleep conversations, if you wish.
The Trello integration in Fleep will send notifications for the following events:
Board – updates to the name, background, settings; board closed or re-opened; members added or removed; power-ups enabled or disabled; added to or removed from organization
Label – created, updated, deleted
List – created, renamed, moved, archived or unarchived
Card – created, renamed, description changed, moved, deleted, due date set or removed, marked completed or uncompleted, archived or unarchived, card cover added or removed, copied, comment added/edited/copied/removed, attachment added or removed, members added or removed, labels added or removed, vote added or removed
Checklist – create, remove, items added/renamed/removed, items marked as completed or uncompleted, checklist item converted into a card
Getting started with the Trello integration
It could not be easier to set up the Trello integration. First, choose a conversation (or create a new one) that will have the feed of Trello updates flowing in. Find Integrations in the Conversation Settings, and click on "Add" below the Trello integration:
A popup will appear – here, choose Connect with Trello to proceed:

Next, you will need to let Fleep use your Trello account (if you're not logged in to your Trello account, you will be prompted to do that first). Click on "Allow" to continue: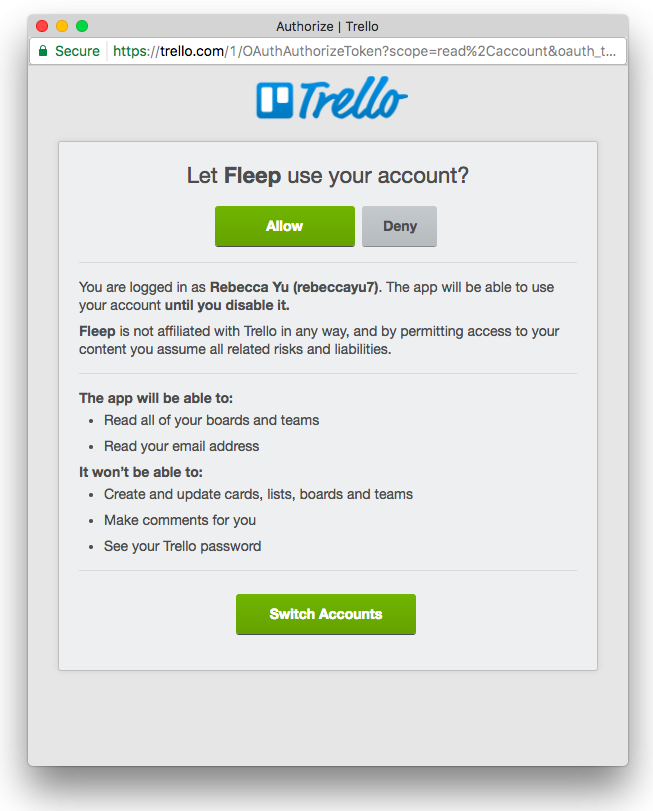 Now, you can choose which Trello board you wish to receive notifications from. Then click "Create":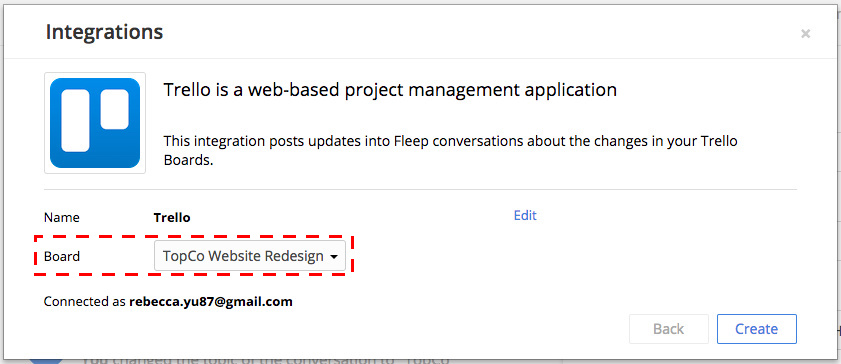 And you're done! You and all other members of the conversation will now be able to see the updates in the conversation: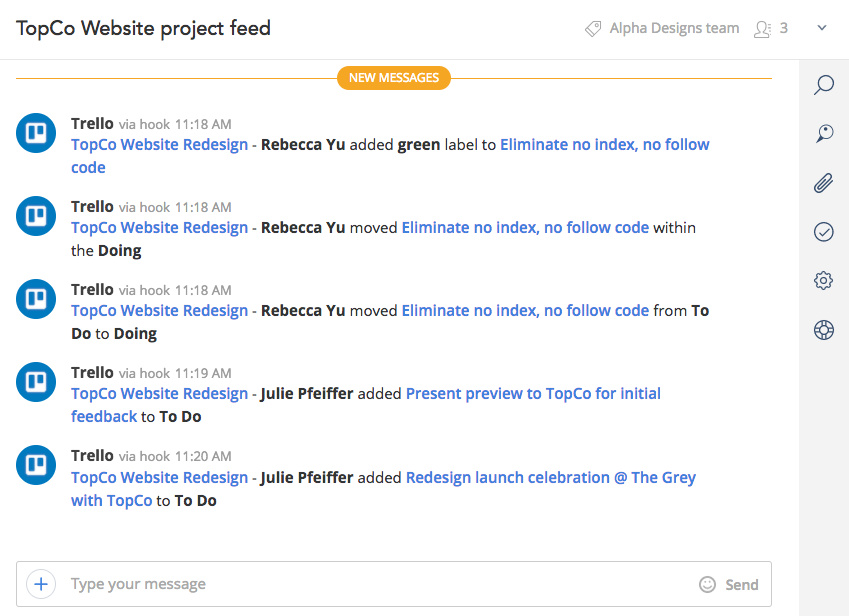 Do you have any feedback or questions for us? Let us know at support@fleep.io. Let's also stay in touch through social media – Twitter, Facebook, LinkedIn and Instagram.