Labels help you manage and organize your Fleep conversations, so you can keep your focus on the conversations that matter most.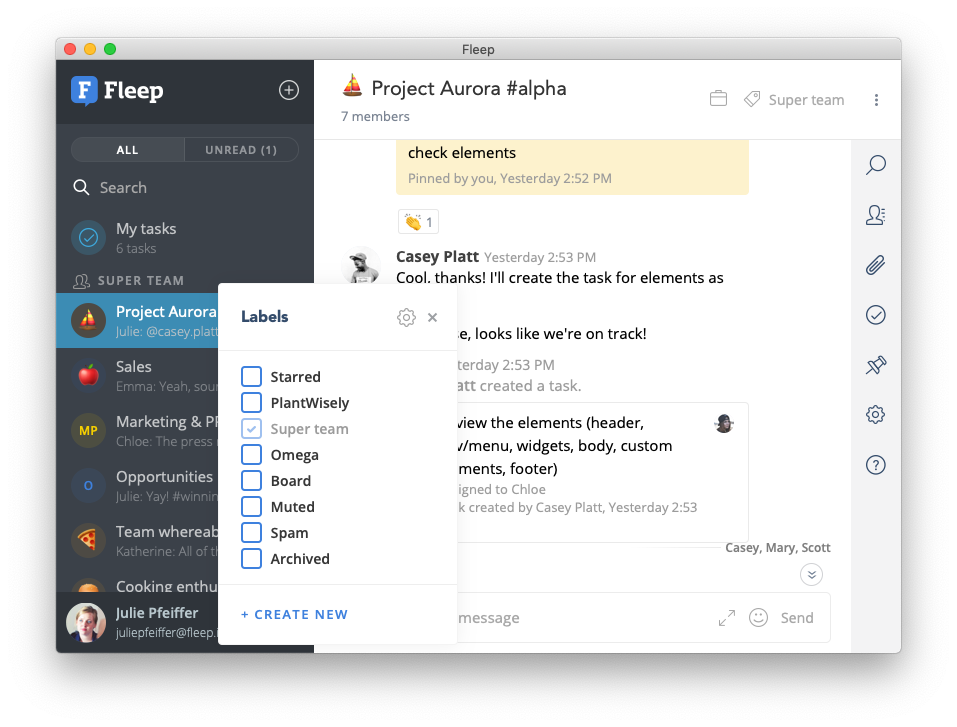 Labels in Fleep are a lot like folders in email clients. As such, adding labels is a change that will affect two parts of the current Fleep user interface: the left pane (conversation list) and the header of each conversation. Labels will appear on the left pane as label groups and next to the conversation header. Note that the labels are visible only to you, not to other users or members of the Fleep conversations.
By default, you will see the Recent label on the left pane. This is a system-generated label that includes up to 20 recent conversations. This list does not contain conversations that have been starred or muted. Which brings us to the other system-generated label that you might encounter on the left pane: the Muted label.
The Muted label contains conversations that you have muted for a while (an hour, a day, a week) or forever. If you muted the conversation for a time period it will pop up in the Recent list again once the time is over.
Any additional labels that you add to your conversations (e.g. Work, Friends, Project X) will behave on the left pane using the same logic and rules as the system-generated ones. Here's the basics:
Fleep Conversations can have none, one or several labels attached to them.
If any one conversation has several labels attached to it, it will appear under all of those collapsible labels on the left pane.
Once you create a custom label, it will appear on the left pane as well. Every custom label you create can be edited and deleted whenever you wish to do so.
All labels can be collapsed so you can keep your focus during the day (e.g. Work, Personal) and can be organized and reordered however you wish.
Only you can see, create, edit and remove your labels.
How to add labels?
To add or remove a label, right-click on the conversation in the conversation list and choose "Labels" from the menu that appears. In the new popup that opens, you will be able to add or remove labels, as well as create new ones.
How to manage labels?
If you wish to edit, delete, rearrange and organize your labels, you need to navigate to the Labels view. To get there, click on your profile in the bottom left corner of the user interface, and choose Labels from the menu that appears.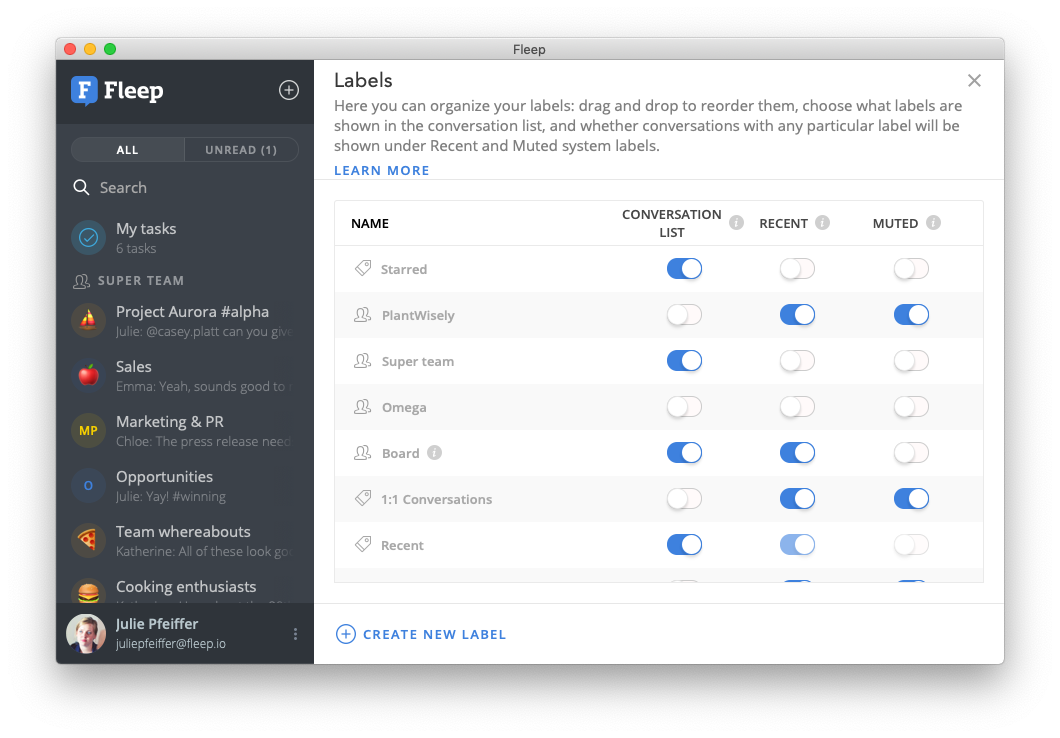 In this view, you can do a few things:
Use the toggling options to configure whether conversations with any particular label will appear in the conversation list, under Recents and under the Muted system label.
Edit or delete labels — hover over a label's name – and the edit and delete buttons will appear.
Rearrange labels — simply drag and drop them into the preferred order: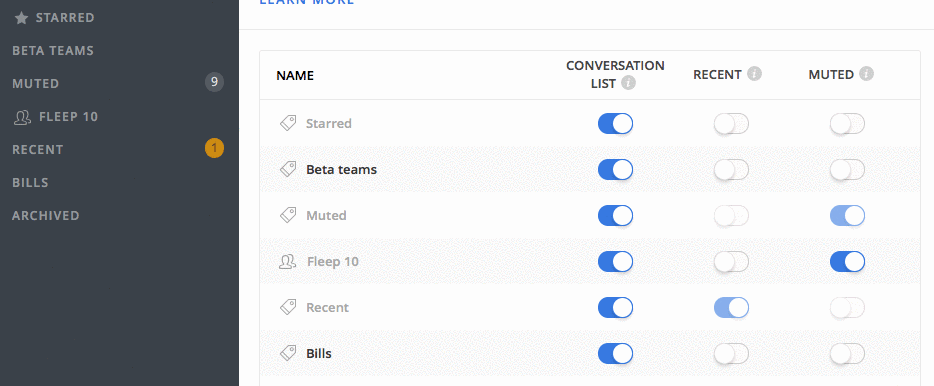 If you have any further questions or ideas for new feature requests, don't hesitate to reach out via support@fleep.io. Let's alsp stay in touch via our social channels (Twitter, Facebook).