We are excited to launch an update to the conversation list (left pane) on the desktop version of Fleep! This update includes several improvements and some new features: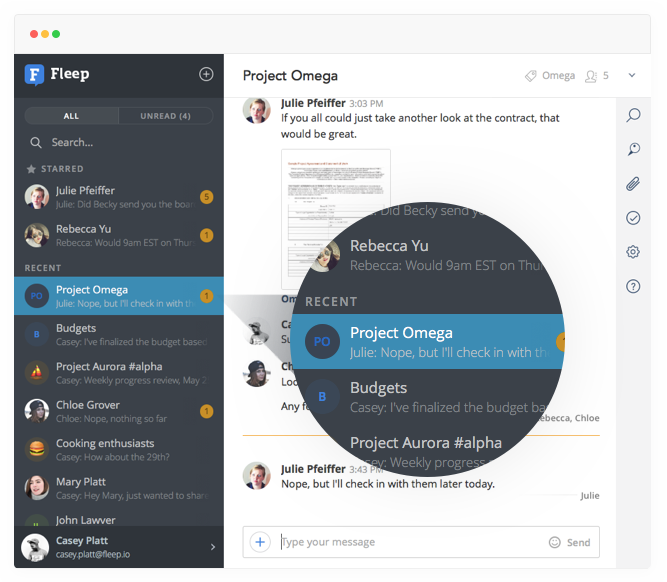 New look & 2nd line message – we have revamped the look of the desktop conversation list, and it now includes the latest message below the conversation's topic. This gives you a glimpse of what the latest message (or first unread message) is about, without you having to click and open the conversation. It's especially handy when you have several unread conversations and have to decide which ones to prioritize!
Compact view on desktop conversation list - if you prefer to see more conversations on the conversation list, this setting is for you. In the compact view, you will not see conversation avatars and the second line message.

To try it out – open Preferences by clicking on your profile in the bottom left corner of the desktop version, and tick the box for Compact view on Left Pane.

Adjustable width – you can now drag to adjust the width of the conversation list on the desktop version. If you want to see more of the conversations topics or second line messages, make it wider! If you prefer a narrower conversation list, just drag it to its minimum version. Do note that restarting/reloading the desktop version, as well as signing out and in again will reset it to the default width.
Message search – since we are planning to sunset the All Conversations view, message search has migrated from that view to the conversation list. You will now see message search results on the conversation list. Simply type in your search phrase, and hit the Search from messages button to see results from messages:
Changes to search results sort order – now, matching conversations that are muted will be sorted below non-muted conversations. Also, all results where the keyword is in the beginning of the word or name will be listed higher than matches in the middle or end of any matching word or name. (So, if you search for "Neil", then the conversation with Neil Degrasse Tyson will be shown higher in the search results than the conversation with someone whose name is O'Neill.)
That's it for now! We hope you enjoy this update. Questions? Feedback? Get in touch with us via support@fleep.io. You can also find Fleep on Twitter, Facebook, LinkedIn, and Instagram.