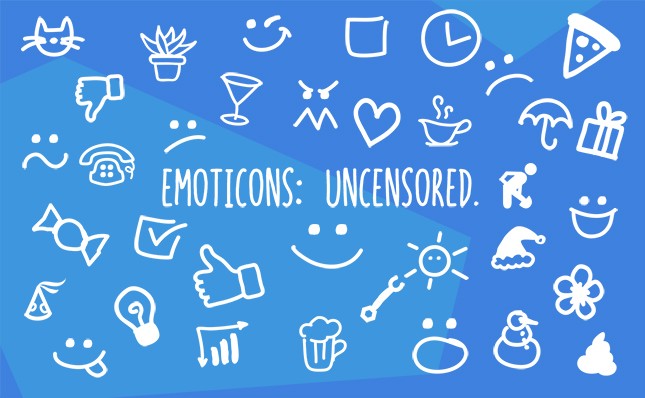 Note: Newer information regarding Fleep emoticons can be found in this blog post. 
Ever wondered looking at Fleep emoticons whether that's it? I bet all of you know the regular Fleep emoticons available but do you know that there are a few undocumented hidden smileys as well? Why do we hide them? Well, we simply ran out of space on the devices :P
The reason why Fleep has emoticons is so you can express yourself in a variety of ways. Using an emoticon can spark fun topics or cause someone to smile and think. Some people use them to talk about the day, night, weather or just nature. Some of the emoticons were made by us, some were suggested by our users.
Below are listed all the emoticons (including the hidden ones) that are available in Fleep. Just type the appropriate combination of keystrokes in the message entry box and press enter to display them.
SMILEYS

Smile, life is beautiful    :-) :) :=)
Sad, not OK    :-( :( :=(
Winky smile    ;-) ;) ;=)
Laughing out loud, LOL    :-D :D :=D
Oh, surprise!    :-O :O :=O
I'm worried    :-S :S
Meh, don't care    :-/ :/
I'm angry, grrr!    X-( X( :@ :-@ :=@ X=(
Cheeky smile with tongue    :-P :P :=P
NICETIES, WEATHER & SEASONS

Thank you!    ((bow)) ((thanks)) ((ty))
Yes, awesome!   ((Y))
No, I don't agree.    ((N))
It's sunny outside!    ((sun)) ((sunny))
For the rainy days    ((umbrella))
Christmas is coming!    ((santa)) ((kraana))
Oh, winter is coming.    ((snowman))
WORK & PROJECTS

Working hard   ((work)) ((gwb))
On the phone:   ((phone))
Fix it!   ((tool)) ((wrench)) ((repair))
Stuff to do:   ((todo))
This is done!     ((done))
I have an idea!   ((idea)) ((i))
Pivot this, startups!   ((pivot))
Time is now:   ((clock)) ((O))
LEISURE & FUN

Is it beer o'clock already?   ((beer))
Time for drinks:   ((drink)) ((D))
Coffee or tea?   ((coffee)) ((tea))
It's pizza-time:   ((food)) ((pizza)) ((italy))
Party on!    ((party))
A flower for you…   ((flower)) ((F))
I want candy!    ((candy))
Happy birthday, here's a present:   ((gift))
I "heart" you!   ((heart)) ((love)) ((H)) ((L))
Did you water my plants?   ((plant)) ((alo))
The cat's out of the bag…   ((cat))
VERY HIDDEN EMOTICONS

This deserves are small comment or two. All we're going to say is that engineers need their Easter eggs too.
For the wandering eyes:   ((boobs))
For those not so great moments:   ((poop))
Which emoticon is your favorite? I bet it's not ((poop)), although you might find some brilliant moments for that one too. Is there an emoticon you are missing in Fleep? Let us know and maybe the emoticon-fairy can help to bring those on board as well in the future!
Happy fleeping! Now off you go, surprise your friends with some emoticons!