As 2018 is drawing to a close, we bring you an overview of Fleep features that were released this year. By and large, we spent 2018 improving Tasks, emails, the general experience in Fleep and a few fun things… Read on, if you'd like!
Here's what we released to Tasks in Fleep this year:
My tasks and Private tasks — while Fleep Tasks let you create to-do lists in Fleep, the My tasks view we introduced in 2018 gives you an overview of all tasks assigned to you, across your conversations. In that view, you can also create Private tasks that are only visible to you. Read more: Introducing My tasks
Task completion notifications, a "Move to section" action, the "Archive all" action and some minor improvements — as Tasks are a core part of Fleep, we kept investing into Fleep Tasks in 2018. You can get a full overview of these improvements to the core functionality here: Fleep Tasks update
The fun stuff:
Emoji reactions — we love emoji reactions, not just for fun, but also for how they can improve productivity. You can use reactions to respond to something, without sending an actual message that would alert everyone in the conversation. Read the full update: Introducing Emoji reactions in Fleep
Status message — this allows users to add statuses like "on vacation" or "working from home" to their profile. Status message is only available to Fleep for Business users. Read more: Fleep status message is here
Emoji revamp — we've had support for emoji in Fleep for a while, and this year we put a decent amount of effort into making emoji look really nice in Fleep. This included a migration to Missive's open source Emoji picker, to EmojiOne 4.0 and building Unicode 11 support.
Fleep News Bot — this friendly bot shares Fleep product news with you, whenever there is something that is relevant to you. If you'd like, you can always mute the conversation with Fleep News Bot, or leave or delete the conversation if you do not wish to receive Fleep News.

General updates to how you can use Fleep:
User search — Fleep is an open platform, so you can collaborate with any other Fleep user. With user search, you can now easily find other Fleep users, who are not your contacts yet. Read more: Introducing user search in Fleep
Canned responses — you can now create and use canned responses in Fleep, as quick replies, as task creation templates or as a stash of your favorite gifs, for example. Read more: Introducing Canned responses in Fleep
Improvements to push notifications — by default, Fleep only sends you a push notifications for the first new message in a conversation. So, this year, we introduced the option to receive push notifications for every new message for those who prefer that. Additionally, we worked on minor improvements to mobile push notifications, e.g. so that they are updated when a message is edited or deleted.
Message and file history export to Dropbox — conversation history export is not a new feature in Fleep, but we recently added the option to export messages and files directly to your Dropbox, if you're a fan of backups. Read more: How can I export my Fleep conversation history?
appear.in default room — for the appear.in calling integration in Fleep to work seamlessly, you have to configure an appear.in room to be the used when you start a call in Fleep. Open any Fleep conversation's settings and configure a default appear.in room where it says Default appear.in room name — and all calls started in that conversation will launch the respective appear.in room. Read more: appear.in default room
Wide right pane — we made it possible to expand Taskboards and Pinboards in conversations to a wider state, to give you a really zen experience for working with tasks and pinned messages. Read more: Wide right pane
Sleep mode — this is an account preference that helps make sure that if you leave a Fleep conversation open on your screen for longer, then new incoming messages will not be marked as read automatically. Instead, they will be shown with the "New messages" indicator. With this account preference, we help make sure you don't miss any new messages that may be important to you. Read more: Sleep mode
Web app message flow rewrite — this was a technical rewrite that improved our message flow on the desktop versions. Some of the functionality that was majorly improved with this rewrite includes the "Show in conversation" actions for files, tasks, search results, as well as general usability and fluidity of the message flow.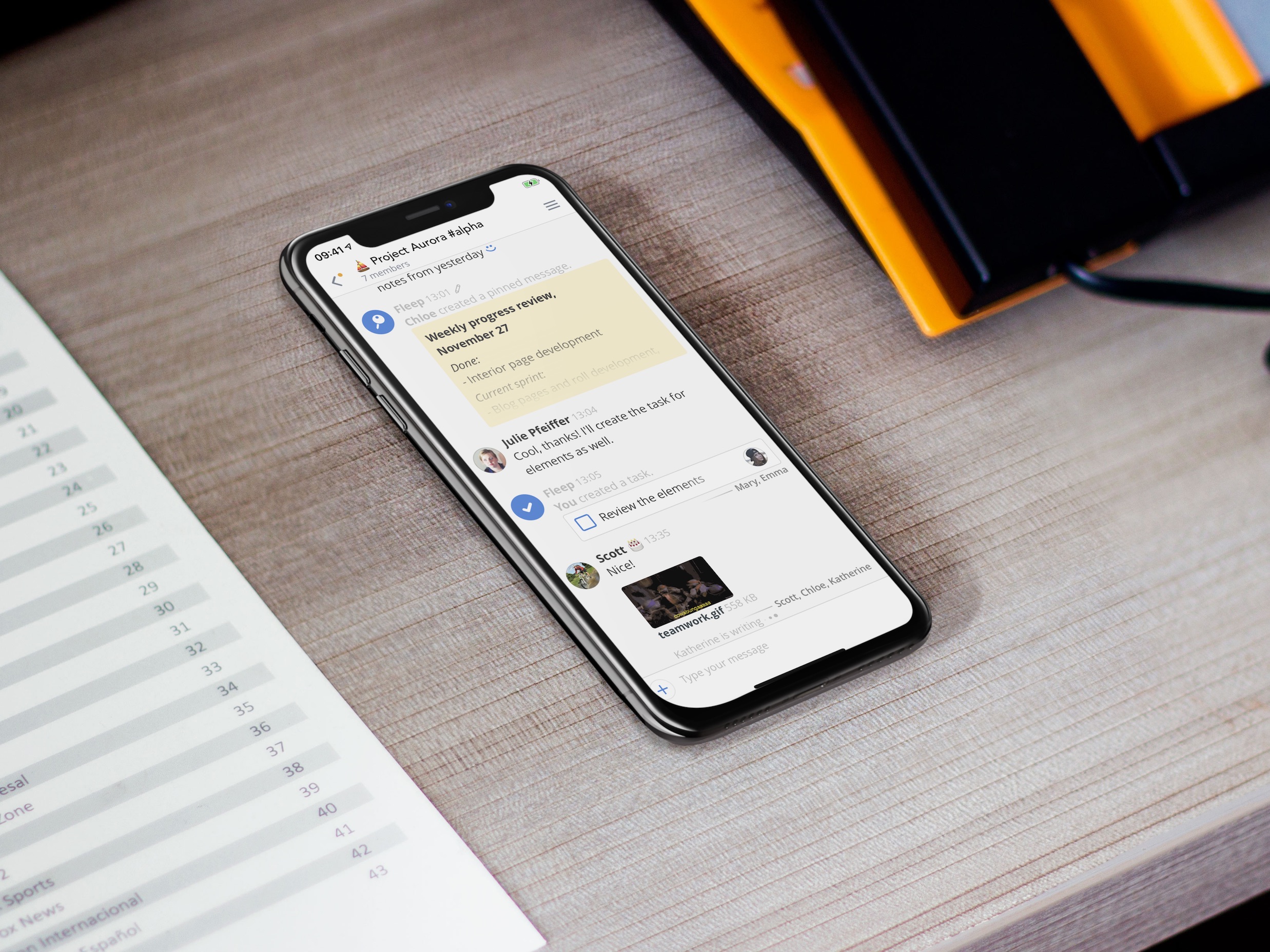 Throughout 2018, we had an entire team working on emails in Fleep. Here are all the major updates we made to how emails work in Fleep:
And if you're feeling nostalgic… Here's some further reading:
We hope you like the direction we are moving in. If you have any questions or feedback, don't hesitate to contact us at support@fleep.io. Let's also stay in touch through our social media channels. We're on Twitter, Facebook and LinkedIn.