Fleep User Stories is a series of blogposts that showcases all the cool people, teams and companies that use Fleep in their daily business.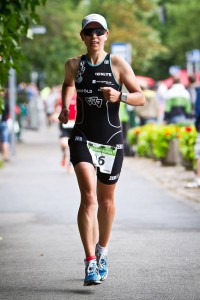 One of Fleep's power users, Karmen Reinpõld is a triathlon and cycling coach, who's also enthusiastic about science. She helps people reach their sports goals by offering her expertise and experience, personal training plans, constant feedback and support.
When she's not out there coaching, motivating, leading workshops or doing sports herself, Karmen likes reading books, going to the theatre, devouroing her husband's baking masterpieces (rumour has it his homemade puff pastry just melts in your mouth), and Fleeping! Read on to find out how Karmen uses Fleep…
How did you find out about Fleep?
I know Henn (CEO of Fleep) from here and there, so when I heard about his new venture Fleep, I just had to take a look! At that point, I didn't really think I needed another communication tool, even though it definitely looked like a cool and neat software. However, the necessity definitely grew with time.
How are you using Fleep?
Being a full-time coach, I have to communicate with my athletes on a daily basis to share and receive information (files, notes etc.). Basically all the information I receive, I also have to remember – but as we all know, the human brain only has limited memory capacity. So, I needed some external help, badly :) Then I remembered Fleep… Now I literally need to do two clicks to get the information I want – it's all in the same place.
What do you like about Fleep?
I have two favorite features in Fleep: first, being able to pin text, and second, seeing all of my sent and received attachments in one place, in the file drawer. These may seem like small things, but they're big for me! These features save me tons of braincells and time every day!
But the main reason why it's so easy to use Fleep is just as Jaan Tallinn said: the person I am communicating with does not have to use Fleep (and doesn't have to pay for it just because I gain some benefit from using the tool). If they want, they can join the "party", otherwise it's just like emailing for them.
Do you have any Fleep tips to share?
I believe I'm more of a basic user, maybe even too basic – nothing fancy or twisted, just enjoying the black and white, clean usability. It has everything necessary to make my daily life a little more efficient, without it being too energy-consuming. I can use this extra energy in my workouts!
Thanks for sharing your Fleep User Story, Karmen! Again and again, we are surprised by the variety of ways in which people use Fleep. You can find all featured user stories under the Fleep User Stories category. Make sure you also follow Fleep on Twitter (#fleepstories) and Facebook to keep an eye on our news and updates!